Ask Bucky: Halloween Wedding Attire
June 25, 2014
As Spring wedding season is nearing to an end, fall wedding season will be here before you know it. Yesterday, my husband came home from work with a wedding invite for a November 1st, wedding. This is pretty much exactly what it looked like (except obviously the details are different because this is the Etsy sample):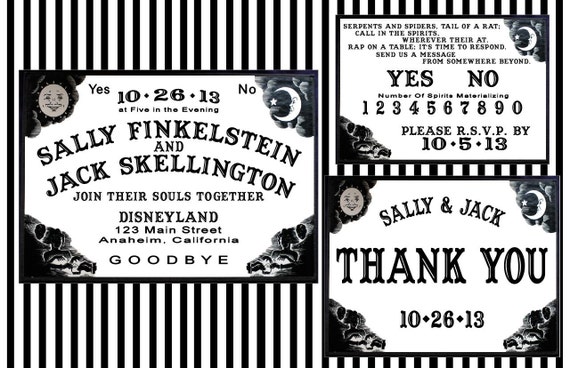 The only thing missing is the BYOS (bring your own sacrifice) requirement.
In case you don't spend a lot of time around Ouija boards (I didn't even know how to really spell Ouija before this post)…this is based on a Ouija board. I'm not going to lie, I've never gotten a wedding invite quite like this before, and while I laughed when I saw it- I also applaud their creativity and courage to do what they want (it is their day after all). My couple is not getting married in Disneyland, but in the church down the street. The reception will be at a local events venue.
It may not surprise you that the first question I had was, what do I wear? This usually wouldn't be a difficult question if the invite had not stated that there was going to be a 'costume reception' (the wedding is on Nov. 1, after all). So essentially, I have to have something to wear to the wedding and then change in to my costume before the reception? So…I am actually really super stoked about this.
Here are a couple of ideas I've been throwing around in my head the last 24 hours as possible wedding/reception outfit ideas.
Idea 1: Kate Middleton
You've made a sizeable effort to look decent for a wedding, so why not let that carry over into your costume? I happen to have hair that (can- when I want it to) look very similar to Kate's. All you have to add for the reception is a hat and voila- you're all set.
Idea 2: Hannah Montana/Miley Cyrus
I think you know where I'm going here. Look cute to the wedding (although this dress in white may not be the best color choice) and look like a crazy person to the reception. The hair would be difficult, but I think it could work. Significant other would be dressed as a teddy bear.
Idea 3: Last Year's Costume: aka: A Bob Ross Painting
I would obviously make a little more effort than for the wedding than stretch pants and Toms…maybe something more along the lines of this sharp J.Crew suit. And yes, that is actually what you think it is in the picture on the right. My husband is dressed as Bob Ross and our cat is a paint palette.
Idea 4: The Inanimate Object Route
I'm not big into dressing like a whore promiscuous person on Halloween, so I tend to favor things like inanimate objects (in case you didn't realize from my last year's costume above). So…why not be a picnic? Wear a tablecloth looking dress to the wedding (with a smart blazer, chic tights, and heels- bien sur) and then adorn yourself with other things (giant ants for a belt…watermelon hat…anyone??) for the reception.
Idea 5: Something Dead (it is Halloween, after all)
It's a pretty easy transition, right? Just add a little more black to the eyes, some red lips, frothing blood in your mouth, and some fangs and you've basically just walked out of the latest young adult novel.
At any rate, I have no idea what I'm going to wear yet. I promise you, though, It will be something good.
What would you wear if you were me? I'd love to hear!
xoxo,