What To Give This Year, According To Bucky
December 4, 2014
Hanukkah is only a week and a half away and Christmas is just three Fridays from happening. It is officially oh-man-I-need-a-present-asap time. Before you freak out, make sure you remember to take a moment to review the 10 Commandments of Holiday Giving to get in the right mindset. Then get your hot chocolate (peppermint schnapps optional) and check out these fresh ideas for holiday giving.
For The Person That Has Everything
We all have these people on our lists. When they want something, they just go out and buy it, which makes gift giving rather hard. My parents (for the most part) fall into this category. Not only do they have everything they could possibly want, but they are always in the process of 'downsizing' (which makes me feel bad and buying them things). Here's what I do instead:
1) Groupons are your friend. Instead of giving an item, give an experience or a service. Look for deals in their area and you'll find things that you never considered before (VIP tickets to a nearby beer festival, anyone?)
2) The edibles. If Harry and David are your bff's and edibles work best for you, change it up this year. I like to put together a local edibles gift including a bottle of local wine, chocolates, and any other specialty your area has. Not only does it support local business (commandment #3), but it carries more meaning than an online ordered gift basket (which really just proves that you have opposable thumbs and a credit card).
For The Woman in Your Life
For a lot of men, holiday presents are a 'damned if you do, damned if you don't' situation. If you get her the gym membership she's been wanting, then you're calling her fat. If you get her a massage gift certificate, then you're saying she's tense and stressed. First of all….ladies…if this sounds like you…please realize that the man in your life is trying to get you something nice that you'll appreciate (and he's not secretly trying to tell you something). Even if you get a new refrigerator, at least he was listening to you (which may make you reevaluate how much you complain out loud). If you have no idea what to get the lady in your life, here's the first tip: listen. And I don't mean listen for the answer when you ask a question. Actually listen to them when they discuss new adventures they'd like to do, new hobbies, old hobbies, whatever, listen to all of it. I get most of my Christmas ideas over Thanksgiving break when all of my family is in town together just hearing about what's going on in their lives. So and so is training for half marathon…perfect! they told me exactly what they like best when they train. Someone else  has taken up crocheting? Great! a beautiful basket of yarns and that crochet hook size they haven't been able to find will be meaningful, thoughtful, and useful.
For The Man in Your Life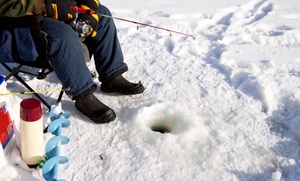 (This picture goes with a groupon for an ice fishing experience)
Ladies, the section above applies to you too. Listen, listen, listen. If you know the person well, you can pick up on the difference between true interests and 'I think that would be fun to try'. The difference between the two is how much money you are investing in the gift. If he just wants to try something (ie: my husband and fishing) don't buy the nicest fishing rod around. If he has a true interest in fishing and has been doing it for years, a custom made rod (cha-ching) makes a great gift. Buying for men can be difficult, and if your man is not a talker (ie: there won't be a lot to listen to in order to find out what they'd like) revert to the above list of 'hard to buy for people gifts'. I'm serious about the whole Groupon thing. Who knew that there was an indoor golf center (aka: man cave central) in the town over or that a local restaurant is doing a scotch tasting event?
For The Children
I'm not going to pretend like I have a million children (or, ahem, any for that matter) running around my house that I give the perfect presents to every year. With that said, here are a few ideas on gift giving to children that are 'outside the [toy]box'.
1) Season pass to the local children's museum, zoo, indoor waterpark, etc.
2) Adopt a child or a family. This can local or abroad. When my best friend had her first child, it had more stuff than it needed (the tragedy/blessing? of being the first grandchild). When she reached one or two, my husband and I started sponsoring a child in Central America through Unbound in her name. Now Maddie is learning about new cultures, being exposed to another language, and relating to another child her age in a completely different place. Plus, it's always fun when my friend texts me pictures of Maddie's lastest drawing/letter to her friend Leslie. (Yes, I did specifically pick a child with my own name. I thought it was pretty funny.) The cool thing about Unbound is that you can also sponsor teens and seniors.
3) Take a trip, but let your kids plan it out. Depending on their ages, challenge the kids with different parts of the planning process. Ex: Everyone comes up with a genre like 'skiing'. Explain the amount of money you have to spend and have the older kids make a budget. Talk about geography and show younger kids the places you can go to ski. The more involved your kids are, the more they will cherish the trip.
What are your favorite giving practices? I'd love to hear your comments!
-Bucky