Get a Head Start on Some of Fall's Hottest Trends
March 9, 2015
So, in case you're wondering…yes…I did finally give up sulking about the cold weather and force myself to look at the Fall shows. What I found were some trends that have been enjoying the spotlight for a while (can we say…fur?) and others that were just getting out of the gate. WWD listed several Fall 2015 trends including: capes, fur, anoraks, and folksy looks.
Two trends I am particularly fond of are the 70's revival and, as this WWD article dubs it, car-wash chic. If you're like me and are eager to get a head start on looking like a car wash (or diva queen, whichever works best for you) you're in luck. With Fall being a lot like Spring with all the erratic weather and layering opportunities, there's no better time than to jump on these trends than now.
Trend: 70's Revival
The Runway Inspo: Gucci
Sheer blouses, bright colors, and relaxed looks hit the runway for Gucci.
To translate this outfit into something a little more wearable, try keeping a bold color for the top or bottom rather than both. A cropped version of the trouser in a crisp linen pairs perfectly with a sheer blouse for spring weather. Shop it:  Trouser, blouse
The Runway Inspo: Chloe
Chloe parades neckties and makes sure everyone knows that corduroy isn't just a bear. Absolutely loving this blush color.
This modern take on the tie blouse is fresh and versatile. Wear it tucked into or on top of (with a belt) this jumpsuit. Shop it: tie blouse, jumpsuit
The Runway Inspo: Jonathan Saunders
Pure colors and subtle prints balance hardworking black bell bottoms at Jonathan Saunders.
Start with a colorful jacket, add a printed blouse, and finish off the look with a sleek pair of denim trousers in a bell bottom style. Budget friendly tip: splurge on nice denim- you'll wear it from now until next winter. Save money on the brighter pieces that are more memorable. Shop it:  Jacket, Blouse, bell bottom
The Trend: "Car-wash Chic"
The Runway Inspo: Rosetta Getty
This simple, yet alluring piece can only leave you wondering…is it culottes? a skirt? a dress? Car wash panels? Whatever it is, I like it.
A black skirt with a slit gives the same impression as multiple panels. Not only does this sweater look impossibly cozy, but you can always pull up the shoulders if it gets a bitty nippy out. Shop it:   Skirt, Top
The Runway Inspo: Guy Laroche
If you didn't understand the whole 'car wash' thing you might after seeing this number.
A conservative black turtleneck keeps the look classy when you are sporting a thigh high slitted sequin skirt. Shop it:   Skirt, Turtleneck
The Runway Inspo: Ryan Lo
This is a pretty funky outfit, and if you're looking for something bold (but maybe not too eye catching) try the combo below.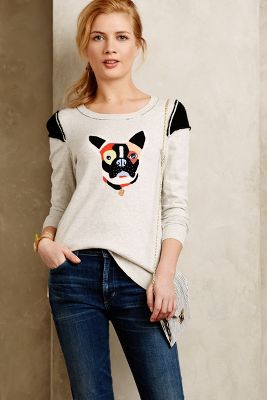 A ribbed dress gives the appearance of lots of slits without the worry of a wardrobe malfunction. Top it off with a cheeky sweater to keep the look casual and quirky. Shop it:    Dress, Sweater
Now I need to work on resisting the urge to buy everything cranberry colored and/or cutting slits in all my skirts. What can I say. It's hard out here for a fashionista.
What's your favorite Fall 2015 trend you saw hit the runways? I'd love to hear.
-Bucky